The Bostitch F28WW Clipped Head 2-inch to 3-1/2-inch Framing Nailer
with Magnesium Housing is a versatile and sturdy tool with the power to cope with a wide variety of jobs. This lightweight nailer will handle all sorts of carpentry work related to framing, flooring, and decking with the added advantage of being handy for tight corners and working overhead. This amazing tool can save you a great deal of effort and time.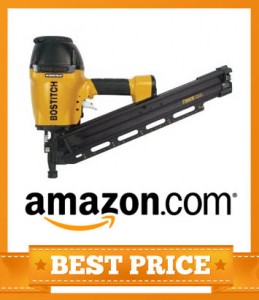 The manufacturer has a reputation for quality tools at an economic price which stand up well beside competitors such as Hitachi, Paslode, Porter Cable and Senco. Consumers like its reliability as well as its ease of use straight from the box.
Reviews show that people are really pleased to have such a wonderful heavy duty device that can be used in so many situations and applications. Whether you are tackling decking, framing or other related works, you just need to have the Bostitch F28WW Clipped Head 2-inch to 3-1/2-inch Framing Nailer handy to meet all your needs and requirements. With 1050-inch-pounds of driving power, this nailer is one of the most powerful on the market and can handle even the toughest lumber work.
Update 15 February 2020. Recent customer are still very positive with most giving 5/5 stars. Lower ratings apear to relate to delivery problems or damaged in transit which, I consider, has little to do with the performance level of the tool.
The Video at the foot of the page was added April 2015. Although made some time ago, it gives a good idea of the size and handling  as well as an overview of the nailer's capabilities.

Functions and Uses – What does it do?
When I started work with a new builder and was introduced to this nailer (which I had never used before) I was impressed with the range of tasks it could accomplish. We use it to fix joist hangers as well as regular framing jobs. It can attach anything – even including engineered wood and wood to masonry, and it fires both clipped head and round head nails. Most tasks can be done with the compressor psi at 80-90 and toe-nailing is simple using the side claws for grip.
We can work comfortably all day – and so can the tool! We have not experienced any misfires or jamming, although some reviewers have mentioned that it can happen if you don't allow it to run out completely before reloading when changing the nail type. With ample power for any job, the neat depth adjustment and the ability to move the air exhaust in any direction without tools is a bonus.
Usability, Handling, Ease of use
Setting up the depth needed for the nail is achieved quickly and easily with the convenient patented pushbutton adjustable depth guide so that you don't have to fiddle with the pressure of the compressor once set at 80 psi – a great plus when working at height or in a tight corner.
The weight of the Bostitch F28WW Clipped Head 2-inch to 3-1/2-inch Framing Nailer is only 7.6 pounds and this makes it very easy to handle. We found the comparatively light weight made it easier to work longer and get the job done without undue fatigue. We found it an invaluable asset when working in cramped conditions.
Durability
Although light for its size and power, there is no compromise where durability is concerned as the lightweight magnesium housing proved tough and the bolt-on, steel wear guards with integrated rubber skid pads protect the tool from bumps and falls.
Dimensions
The Packed item is 23 x 16 x 6 inches, and the weight is 9 Pounds. The tool itself is 20" long and weighs 7.2 pounds. Light enough to be considered portable and you can easily take it anywhere on site.
Features
Nailing – This framing nailer drives 2- to 3 1/2-inch (.113 to.131-inch) framing nails which are readily available in a wide variety of sizes and finishes, although Some consumers report difficulty in obtaining the nails they need in certain areas.
Power – With 1050-inch-pounds of driving power this is one of the most powerful of its size on the market making it able to tackle the toughest engineered lumber applications.
Housing – The tough Magnesium housing is built for lightness combined with durability.
Extra details – Included with your purchase are bolt-on steel wear guards with integrated rubber skid pads, and a notched, 16-inch layout indicator on the magazine which helps achieve correct distance between studs quickly and accurately.
Two triggers are provided, one of which is the 'smart trigger' which works as a sequential and bump fire trigger allowing for optimal control and fast production.
An adjustable rafter hook allows users to hang tool on rafters and joists. Prviously referred to as a ladder hook, when it was first provided,  it was not considered to be strong enough to rely on as a safety feature. I have not found any other references to this.
Technical Details
For the Bostitch F28WW Clipped Head 2-inch to 3-1/2-inch Framing Nailer
• 2- to 3-1/2-inch clipped head stick framing nailer
• Driving power: 1050-inch-pounds
• pushbutton depth of drive
• Magnesium housing for durability
• weighs 7.6-pounds
• Sets up as sequential- or bump-fire trigger
• Length: 20-inches
• Part Number F28WW
• Power Source: air-powered (pneumatic)
• 7-year manufacturer warranty
Pros
As this model has been out for awhile, there are a number of reviews online with very few complaints and, on the whole, it rates very well. Consumers like the versatility and quality and the fact that while the nailer is small and light it packs a punch on site that speeds productivity and reduces fatigue.
It is not cumbersome and many have compared it favourably with other high quality nailers.
For the most part, users maintain that this tool is ideal if you want a trouble free heavy duty framing nailer at an affordable price. It is highly effective, making the whole framing procedure exciting and hassle free.
It holds plenty of nails and because of it's magnesium construction, it's also lighter than its competitors and, with a lightweight air-hose, is extremely versatile. The countersink feature is very popular due to its pushbutton guage, and the cleat attached for safety works brilliantly well for toenailing allowing you to nail at any angle without danger of slipping.
Most users report consistent and reliable operation and ease of use, the depth guage being easy to adjust. It can be run off a small compressor for low duty jobs and portability reserving a larger compressor for rapid fire.
It's certainly well adapted for use on a variety of jobs and projects.
Cons
We have looked at the many positive aspects of the nail gun but this tool is not without problems. Although some people are DELIGHTED with this unit, some really don't like it at all, and have reported safety aspects that may cause you concern. The ladder hook that may be supplied is reported to be poorly constructed and apt to break.
Some have said they have experienced erratic or double firing. All power tools should always be treated with a healthy respect for their power and operated with care.
It appears that in some regions it is difficult to obtain suitable nails. However, if you plan ahead they can be obtained from Amazon.
There is NO case supplied with the Bostitch F28WW Clipped Head 2-inch to 3-1/2-inch Framing Nailer.
Consumer Ratings, Customer Reviews and scores
Overall the ratings are highly favourable on this and the average rating comes in at 4.5
The Bostitch F28WW Clipped Head 2-inch to 3-1/2-inch Framing Nailer with Magnesium Housing is a remarkable tool that has a great rating out of 5 stars according to the current positive customer reviews.
Price
Currently available at a discount of over 40% this is a well-priced tool, and when compared to high-performing nailer options like Paslode, it's a great bargain. Amazon usually has the best deal but you can check here for the current price.
The Bostitch F28WW Clipped Head 2-inch to 3-1/2-inch Framing Nailer is considered by users to be one of the best nailing guns that a framer can really depend upon.